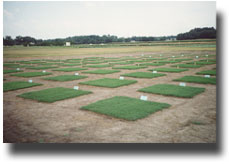 National Bermudagrass Test
at Beltsville, Maryland

NTEP is a cooperative effort between the non-profit National Turfgrass Evaluation Program, Inc., and the United States Department of Agriculture (USDA). NTEP is headquartered at the Beltsville Agricultural Research Center (BARC) in Beltsville, Maryland USA.
Program policy is made by a policy committee consisting of one member from each of the four (4) Regional Turfgrass Research Committees in the United States; one member from each of the following organizations: the Lawn Seed Division of the American Seed Trade Association, the Turfgrass Producers International, the United States Golf Association (USGA) Green Section, the Turfgrass Breeders Association, the Golf Course Superintendents Association of America, the Oregon Seed Trade and Pacific Seed Associations, and an executive director.
The policy committee is responsible for determining program policy including, (1) requirements for submission of entries, (2) scheduling tests, (3) evaluation methods, (4) selecting standard or control test entries, (5) setting entry fees, (6) coordinating tests in their respective regions, (7) establishing guidelines for publication and data distribution and (8) scheduling committee meetings.